Skating - Mong Kong - Hong Kong Return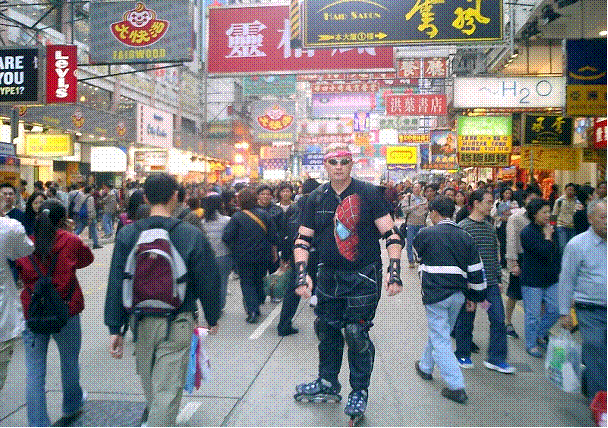 Hong Kong may be the worst location in Asia to Rollerblade in, and Mong Kong would be the worst place to skate in Hong Kong. Cars will not even try to avoid you. It is weird, a car can be sitting on a sidewalk blocking all pedestrian traffic, a van can block most of the road and no one bats an eye, but politely skate on the side of the road and you through half of the SAR into blinding road rage.
Suitable places to skate are difficult to find, even the best of places in Hong Kong may have poor surfaces, poor lighting, or may be difficult to get to. Even some of the most use jogging lanes have to be shared with cars, blading down a small jogging path, turning a corner, do not be surprised to find a car coming towards you. Finding good places to skate in Hong Kong is my primary mission. If you know any please share.
MongKok
This was a challenge. MongKok is one of the most congested areas on planet earth. RollerBlading here ranges from difficult to almost impossible. But certainly most always it is dangerous and frustrating. Have we done it, yes, we even went shopping in all the vertical shops, but our advice is to visit without blades.
YMCA Roller Rink
At 22 Gascoinge Road, Yau Ma Tei, Kowloon, Tel 27826682 is a very nice roller rink, not really an indoor rink, buy nicely covered. Which means if it rains you won't get wet, but if it is hot and humid you will be hotter and more humid than it is out of the rink.
They offer Inline Hockey Leagues. Just Completed is a aggressive Inline skating area. Lessons and training are available. Call for Rink times (they change frequently)
Tsim Sha Tsui
Ok we have done it. We have Bladed on the streets of Tsim Sha Ysui, Hong Kong. My Advice forget that. Cars consider avoiding you a major sin. Road Surfaces are in poor conditions. Vans on a sidewalk, Blocking all access. Blading quietly, politely down a street in HK, means hunting season is open on you.
I was on the SIDEWALK in Tsim Sha Tsui, and a taxi looking straight at me pull up across the sidewalk right in front of me, down I went. (I was wearing pads – no blood).
In front of the harbour is a "path" heading east from the Star Ferry Terminal which though not meant for skating, in fact I have been told skating is banned there, provides a bumpy ride with a great view. We were polite and no one bothered us, but who knows about next time. Good view, hard on the skates, and feet.
Hong Kong, Central
I have skated here many times, ok, I admit it, I love the danger, and dangerous it is. Forget it, do not skate here. Check out this avi file (if you have the bandwidth)
Bowen Road
Just recently I have been back to Bowen road a couple more times, and it is still being upgraded by being layered with a thick red/orange something or other. The orange goo upgrade is still a long way from being done. The sections that were dry were easier to skate on than the orginal aspahlt, but the sections that were wet from humidy seemed to be very slick. Also vechicle traffice seemed quite heavy. There were a lot of construction guys on the road. They were standing around talking, one holding a sheet of tin or some metal, just as I went by, he turned and almost got me. I was focusing on him, so when he turned at least I was ready and slide around the metal (into him). Anyway I guess we will have to try it a few more times before we know if the "upgrade" is for the better or not. The parts of the road they chisled to look like bricks is not better, it is much worse, but I am still hoping that when the orange stuff sets it will not be so slick when wet. Right now when wet it is pretty dangerous to skate on.
First Update: Bowen Road is being "upgraded" parts of the road have been chiseled to look that it is a brick road, why I do not know, it sure is tough to skate on now. Other parts of it are being "resurfaced". That means painted/layered with a thick red/orange clay "stuff". Maybe it is just not set properly yet, but having skated on it when it was damp from humidity, it was very slick. Our buddy Derek, skating with me this morning, who has skated here many times without incident (unlike me) slipped and went down. It is very slick when damp, BE CAREFUL. Especially with cars and trucks using the lane, skating around a corner, here comes a car, and parts of it the lane are so slick "you can not stop", BANG!!. Other parts of the road are in areas that are under construction, oily and broken up. BE CAREFUL!
Bowen Road may be the most popular lane for Blading in HK. I have seen more rollerbladers here than anywhere else in HK. But BeWare!! The surface leaves much to be desired. It has oil and concrete spills, rough spots, cracks, and holes. It has some lighting, but skating there at night is an adventure.
Even though it is barely wide enough for 2 strollers, it is used by cars as well. There are even new flats being built along its narrow lane!!
Wear a helmet and pads, the rough surface means crash potential is high, and there are lots of obstacles to bump into.
To get there either take the stairs from McDonnell Road (Near the Lane for #80 McDonnell road) – this is how I get there, but then I am practicing going up and down stairs in my blades. And then at the top of the stairs go west (left) or take a taxi to Bowen Road Park (go up Bowen Drive). There are few spots where the view is excellent. Just take care of the walkers, joggers, bicycles, scooters, dogs (lots of dogs) motorcycles, and of course the cars. In HK cars rule every road and lane.
CyberPort
(HongKong south-west side)
Ok this is kind of fun – for now anyway. It is a new area in the southwest of HK Island. Not too many cars (Yet), big hill to work out on, lots of space.
Now I have done the route from Cyberport to Central along Victoria road a few times, but please do not try it. You have to skate on the Road, and many cars in HK just will NOT give you a foot of space. At all.
My last time going down the hill I had a Salomon Wheel come apart on me, down I went. I was padded up, so only a bit of blood and skin loss. Salomon Wheels, I have had a lot of trouble with those.
Anyway Cyberport is fun and fairly empty (for HK) to skate on, stay off of Victoria Road.
Tai Tam (South-East Hong Kong)
Tai Tam Reservoir Road at Tai Tam Country Park is probably the best outdoor location in Hong Kong. The only problem is getting out of the area. If you have to take a taxi you may have a bit of trouble finding one – it is a bit out of the way.
Other than that this is a great lane, Cars prohibited (Except for country vehicles – which do appear). Nice views, "reasonable" surface, not for night skating though.
The Lane goes around the reservoir until it comes to a big hill. Trust on me on this, turn around there and go back. Only really silly people would try to skate to the top, and then have to take off there skates to get back down. – Very Very Steep and very fast surface for the hill part of the lane.
Pak Pat (South-East Hong Kong)
Pak Pat Shan road Near Tai Tam Country Road is in a residential area. So you do need share it with cars, trucks, taxis, etc.. Come time to leave, getting Taxi's out of there can be a bit of problem on occasion.
But in Hong Kong terms this is a good road for us. Traffic is fairly low. The road loops around in a Big Circle, Beginning and ending at red hill plaza. The road has some slopes, good for practice, and a good surface. I like skating here.
My only complaint is that Tai Tam park is really close to here, but you can not skate from one to the other. The short stretch of road is way too narrow and has a couple of sharp curves, so even if a car would like to miss hitting you, coming around the corner it probably could not miss you. And if there is an oncoming car there is no room for a skater. You have to drive or take a taxi between the two sites.
Category

Category Description

Graph

Explanation

Road Surface

Describes road surface conditions

The road surfaces here we experienced were, let me say, challenging. There are good spots, but staying focused all the time was important.

Road Conditions

Is there enough room for skating on the road? Are intersections crossable?

The roads were busy all the time!, Most roads do not have room to share. Even the most popular road for skating, jogging, etc has cars on it, and they come first.

Traffic Conditions

Describes level and condition of traffic. Is the traffic heavy, fast or erratic.

Traffic was HEAVY, Heavy. No Fun.

Driver Attitudes

Describes how drivers react to and treat skaters

Drivers here are terrible. They seem to hate us. Honking, swerving, you name it.

Danger Level

Describes overall danger of skating in this location. Everyplace is dangerous to street skate. Street skating means crumbling roads, bad drivers (or worse), air pollution and even nature. But some places are more dangerous than others

Roads are in bad conditon. Cracks, rocks, rough spots, oil, spilled concret..

Criminal Factor

How serious is crime in this location.

Never had or heard of a real proble,

Cool Factor

Is this a cool place to skate.

No. You Skate here because you are here and want to skate, not because you want to skate here.

Fun Factor

Is this a fun place to skate.

No. You Skate here because you are here and want to skate, not because you want to skate here.

Sidewalks

Are there sidewalks, and if there are what are they like? Often having sidewalks can be worse than not having them. With a bad sidewalk drivers may assume you should be using it - no matter how dangerous it is to use, and react very badly when they see you on the road instead of the sidewalk.

They are here and they are either A. Too narrow to skate,B. Too crapped up to skate, C. Too crowed to skate, D Or have cars parked all over them.

Misc

Any other conditions or issues that were found while skating here

All Factors here are agaisnt a good day of street skating

Summary

A summarization of the skating experience at this location.

You Skate here because you are here and want to skate, not because you want to skate here.

Desire to Return - Overall Rating

The bottom line. Is the place good enough that we want to return here to skate it more. With all the above taken into consideration how much are we looking forward return and skate this location further.

No.