I am not sure what to say about Manila. We have always had fun blading in Makati and Fort Bonifacio. But we have been warned, many times, never to go outside those areas – too dangerous – Criminals with guns, taxi drivers with guns, men with guns, kids with guns, just plain dangerous. We have been told the number one sport in the Philippines is kidnapping. And even in Makati so many would-be great locations – residential 'compounds' – are blocked off by private security and rollerbladers are not allowed in. That leaves the city streets, main roads, which as you can imagine are full of traffic and normally in poor condition.
Fort Bonifacio though is a new business area, still fairly undeveloped and quite good for rollerblading. The streets are not too busy there, and are in still good repair. Rainy day in Manila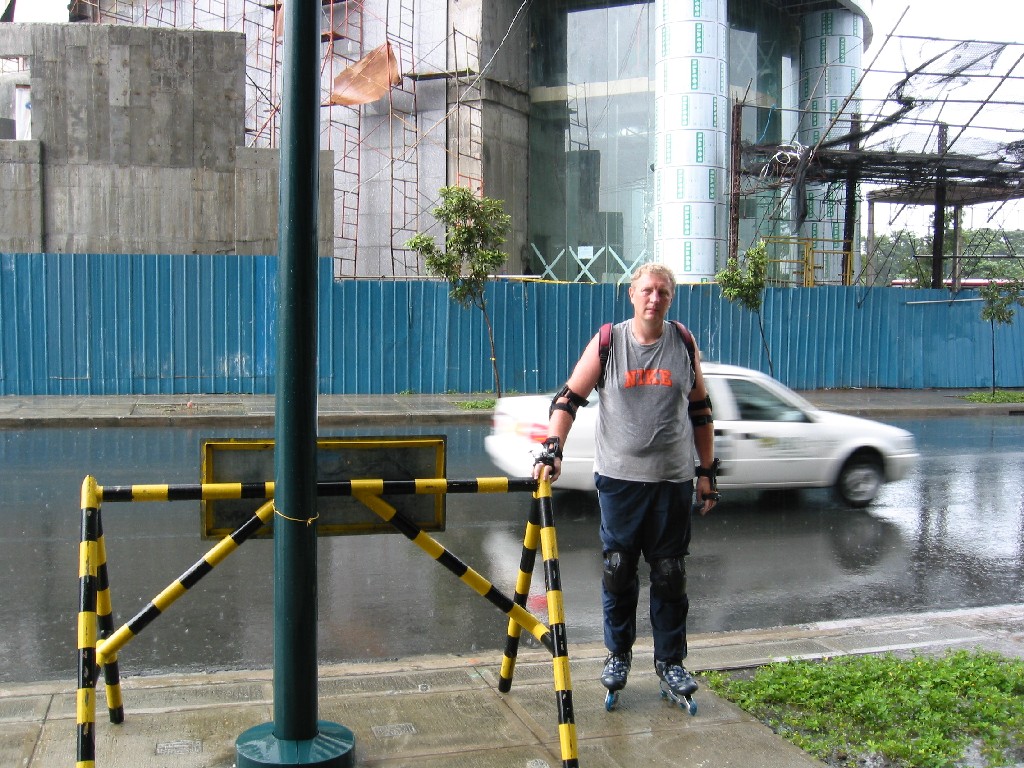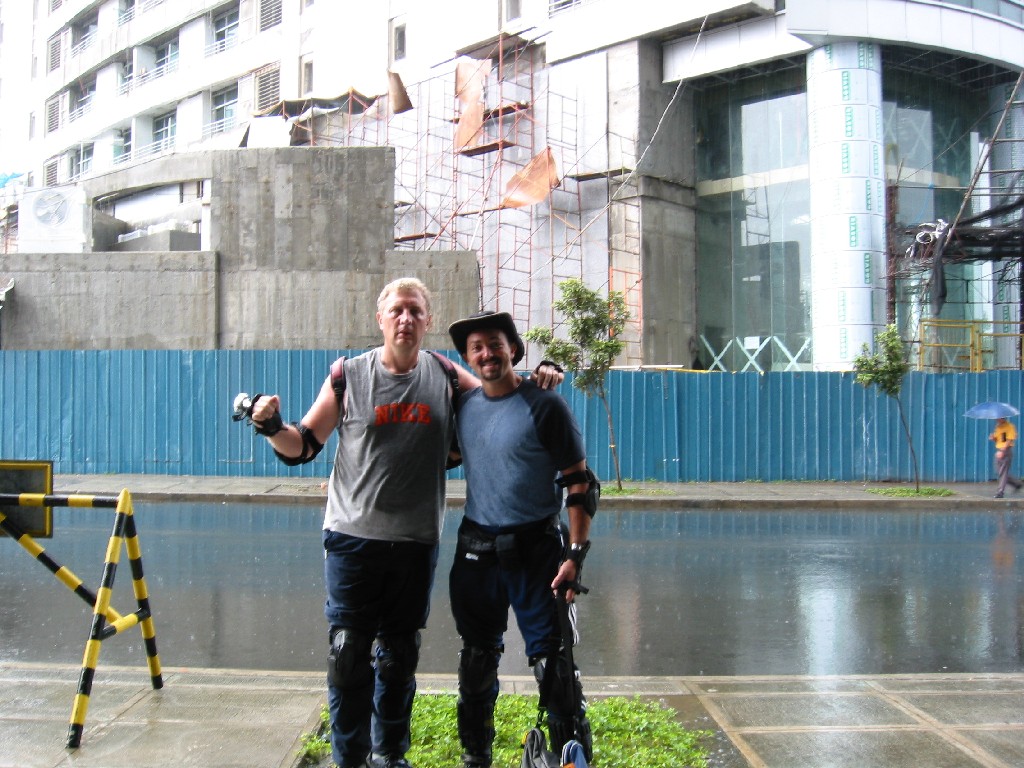 Overall we have had a lot of fun, but also several big crashes, one involving a bus. In one crash I burned a hole through my right knee pad.
In Manila there are lots of residential areas where the roads are pretty good. The problem is you can not get in. They are guarded by private security and the seldom will let you in on skates. One area such as this has the power plant mall located in it. So the road to the mall is "open". Sort of. There are guards on the road but they let cars pass. When we skate to the mall to see a movie or play paintball the guards always try to stop us. The road in the secure zone is a hill with the top of the hill right in the middle. If we can make it to the top of the hill before the guards catch us then we have it made, we can zoom down the hill, slow down at that bottom enough to do a left turn at the light into the mall.
Several times we have done this while being chased. Once we were chased by guards on motorcycles with sidecars. The guard in the sidecar was waving a shotgun and trying to ram us off the road.
Going back, they were hanging around, so we meekly went up the hill on the sidewalk (too small and too uneven to skate well on), until we reach the top then it was a hop over to the road, a turn and a wave back at the watching guards and down the hill.
The first time on this hill, we were just learning to skate and did not yet know how to stop. It was at night and the guards did not notice us. Up the hill we went, then starting down, faster and faster. We came up on the cars waiting at the stop light. Unable to stop or even slow down, we through ourselves on the asphalt, sliding on or knee, elbow and wrist pads. We slide so hard I burned a hole in my knee pad. But they work well, and saved me from harm. The next time we went down the hill we could slow down better and managed the downhill well, with guards chasing up. We have done the hill a few times now. It provides dual excitement, the stopping going down hill in heavy traffic kind, and the being chased by men on motorcycles waving shotguns kind.
Gabriel has a funny story about Manila. He and I were skating around Makita. It was hot and we skated all over. By the time we got back I was wasted. I always stay at the Mandarin Oriental (They now have Wireless Broadband access!!!!). We went in through the Deli. I needed to get some bottles of cold water. The plan was to have some water, and then take our skates off at the Deli before going to our rooms. I was soooo tired I could not lift my leg to take off my skates. So I said lets just skate to the rooms. We skate from the Deli through the fancy lobby restaurant that was full of people, out to the elevators and up to our rooms. (Where I collapsed on my bed until I could find the energy to get my skates off). A couple of days later Gabriel was at the airport when a guy came up to him and said "I think I know you, oh yea I remember you, you were that fellow skating through the hotel!!" Instant fame!!
Category

Category Description

Graph

Explanation

Road Surface

Describes road surface conditions

Lots of Suprises.

Road Conditions

Is there enough room for skating on the road? Are intersections crossable?

Not really. You have to make you own path.

Traffic Conditions

Describes level and condition of traffic. Is the traffic heavy, fast or erratic.

Heavy, I mean really Heavy.

Driver Attitudes

Describes how drivers react to and treat skaters

Not too bad. Generally they will leave you alone.

Danger Level

Describes overall danger of skating in this location. Everyplace is dangerous to street skate. Street skating means crumbling roads, bad drivers (or worse), air pollution and even nature. But some places are more dangerous than others

Tough. Be Carefull at all times.

Criminal Factor

How serious is crime in this location.

Were warned to be very carefull!!

Cool Factor

Is this a cool place to skate.

Reasonably cool..

Fun Factor

Is this a fun place to skate.

Ok.

Sidewalks

Are there sidewalks, and if there are what are they like? Often having sidewalks can be worse than not having them. With a bad sidewalk drivers may assume you should be using it - no matter how dangerous it is to use, and react very badly when they see you on the road instead of the sidewalk.

The ones they had were not that suitable for skating.

Misc

Any other conditions or issues that were found while skating here

Summary

A summarization of the skating experience at this location.

Ok!

Desire to Return - Overall Rating

The bottom line. Is the place good enough that we want to return here to skate it more. With all the above taken into consideration how much are we looking forward return and skate this location further.

Return? I like Manila, but I would not come here just for skating. When we come back we will bring skates, but I will not be staying awake dreaming of skating here.