Wheels Camera/MP3 Player Timex Ironman Speed & Distance System Pads
I have a pair of Solomon Skates, Speedsters, I purchased them at my favourite shop in Sydney. A strange think happened the last time I was skating down a hill on Victoria road on the west side of Hong Kong Island. I had one of my wheels explode, Well, it felt like it exploded, it flew apart, jamming my skate, and throwing me for a long slide down a steep hill. I was wearing my pads, so my injuries were limited. But the slide was so hard and long my pads were torn apart. I am not sure what caused it, but my wheels are gone, my pads are gone, my skates are considerably scratched up, and my body is showing a few marks.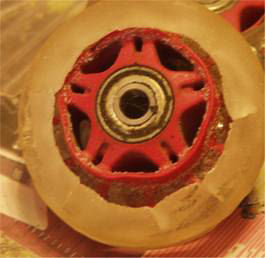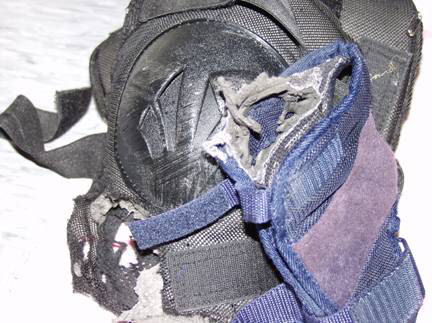 I bought Salomon wheels, size and hardness based on the advice of the Salomon in Chatsood, near Sydney, now in MHO, my own personal humble opinion, the worlds worst skate shop
Salomon Action Sports & Travel
Level 3 Westfield Shopng Town Chatswood
When it comes to skating equipment, it is MHO they do not know what they are talking about. I bought eight wheels there from them, they all broke, crumbled, into pieces just after a little use. What I got from them when I returned them was an argument. After lots of pressure the best they would do is return them to Salomon for a "review", which of course was "normal wear and tear" Wheels crumbling and cracking is Normal?. Anyway in my opinon their advice is bad, their equipment faulty, and they do not stand behind their products. Go to totalskate. Which I did and get 8 wheels, of their selection, "ultimate infinity", they are great. Been working really well.
Camera/MP3 Player
After wrist, knee and elbow pads my number one accessory, is my Casio Exilim Camera. It is not just a Digital Camera, it is also a MP3 player, and records 30 second 15fs movies. The pictures are "ok", 2 mega pixel pictures, which are "better than nothing" and frankly the option for me is either this camera or not to carry any camera. I use it at its best quality setting.

It is great device to have. It lets me stop and take pictures (and take a breath). While skating it gives me a good MP3 player. I use a 512 memory card, half I use for MP3's and half I save for taking pictures. So that gives me 3 – 4 hours of music and room for 200+ pictures or 50+ 30 second 15fs movies.

Movies are great to use to review your skating technique. We take short movies of each other and then review how we are doing. (I need to flex a lot more) And it is also fun to take a short video . Almost all the videos on this web site were taken with this camera.

Pictures are also a great way to remember great spots you have been. And of course there is my favorite reason to have a camera with me. When I get really tired, rather than be embaressed and tell my mates I am bushed, I pull out my camera and think about the "shot" for awhile. I catch my breath and sometimes get some good shots.

The best thing about this device is it is small, tiny, and yet it still has all three functions. And Battery life is very good.

For listening the headphones I use are the Sony fuzzy ones that sit over the ears, not the ones that go in the ears. I understand these do not provide as good sound quality as in-ear noise reduction earphones – which are what I use on the airplane, these provide pretty good sound, but still let me hear street sounds, cars and such. I feel this is a necessary feature so I can hear what might be coming up from behind.

Timex Ironman Speed & Distance System

My newest bit of really fun (if perhaps unnessary kit is the Timex Ironman Speed & Distance System. It is so much fun. In Hong Kong it does not always work it best, especially when trapped in the valleys of tall buildings that make up a lot of the city. But otherwise it is fun. It gives you all kinds of good information. Below is the info from a vendor.

• Two-piece wireless system uses Global Positioning System (GPS) satellite technology to continuously calculate and monitor speed, distance, and pace.
• GPS tranceiver (not shown) clips on waist or straps onto arm.
• Information is displayed on multi-function watch, which notifies the user of how to change a workout to achieve set goals.
• Continuous odometer.
• Indiglo® illumination.
• Memory storage functions.

Features

Contemporary Ironman® Triathlon® styling
50-lap or 100-lap memory recall
Countdown timer
Chronograph
2 time zones
Alarm - Daily and Weekend
INDIGLO® night light
All Day INDIGLO® display
NIGHT-MODE® feature
Water resistant to 50m
Speed and Distance Functions:
Current speed/pace
Average speed/pace
Maximum speed/best pace
Automatic time setting
Workout distance
Continuous odometer (miles traveled)
Target speed alarms (100-lap only)
Target distance alarms (100-lap only)
Metric or English measurement units
Maximum speed displayed: 450 mph
MPH with one tenth MPH display
KPH with one tenth KPH display
Package Includes:
Ironman® Triathlon® watch
GARMIN® GPS tracking system
3 AAA batteries
Elastic arm strap with hook and loop fastener
Belt clip
User's manual
Reusable storage package
The Best Pads I have are RollerBlade, hands down. They are really built for street skating. Mine have survied many falls. They are great. I have used others, but most have not survied too many road spills. I have more than one other kinds burn holes right through.